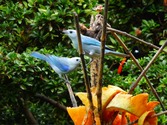 Birds play prominent and diverse roles in folklore, religion, and popular culture. In religion, birds may serve as either messengers or priests and leaders for a deity. Birds have themselves been deified, as in the case of the Common Peacock, which is perceived as Mother Earth by the Dravidians of India. Some birds have also been perceived as monsters, including the mythological Roc and the Maori's legendary Pouakai, a giant bird capable of snatching humans.
Birds have been featured in culture and art since prehistoric times, when they were represented in early cave paintings. Birds were later used in religious or symbolic art and design, such as the magnificent Peacock Throne of the Mughal and Persian emperors.
With the advent of scientific interest in birds, many paintings of birds have been commissioned for books. Among the most famous of these bird artists was John James Audubon, whose paintings of North American birds were a great commercial success in Europe and who later lent his name to the National Audubon Society.
Birds are also important figures in poetry; for example, Homer incorporated Nightingales into his Odyssey. The relationship between an albatross and a sailor is the central theme of Samuel Taylor Coleridge's The Rime of the Ancient Mariner, which led to the use of the term as a metaphor for a 'burden'. Other English metaphors derive from birds; vulture funds and vulture investors, for instance, take their name from the scavenging vulture.
Perceptions of various bird species often vary across cultures. Owls are associated with bad luck, witchcraft, and death in parts of Africa. They are regarded as wise across much of Europe.